Thanks for being a beta tester!
If you have any issues completing these instructions, please email us at hello@cherrylivelight.com.
Estimated time to complete this installation: 5 minutes
Requirements
MacOS Catalina
Philips Hue Bridge
At least one Philips Hue light connected to your bridge
Cherry Live Light Cam Beta downloaded to your computer
Step 1: Connect Cherry Live Light to Hue Bridge
Extract the downloaded .zip file by double-tapping it. This should create a new app in the same directory.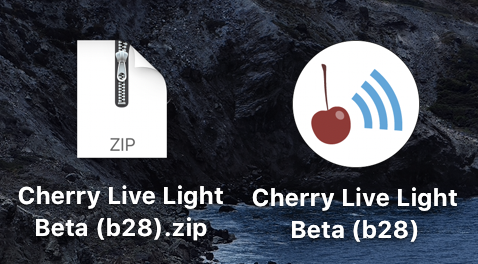 Run the newly-extracted app by double-tapping it.
Tap Open on the internet download prompt.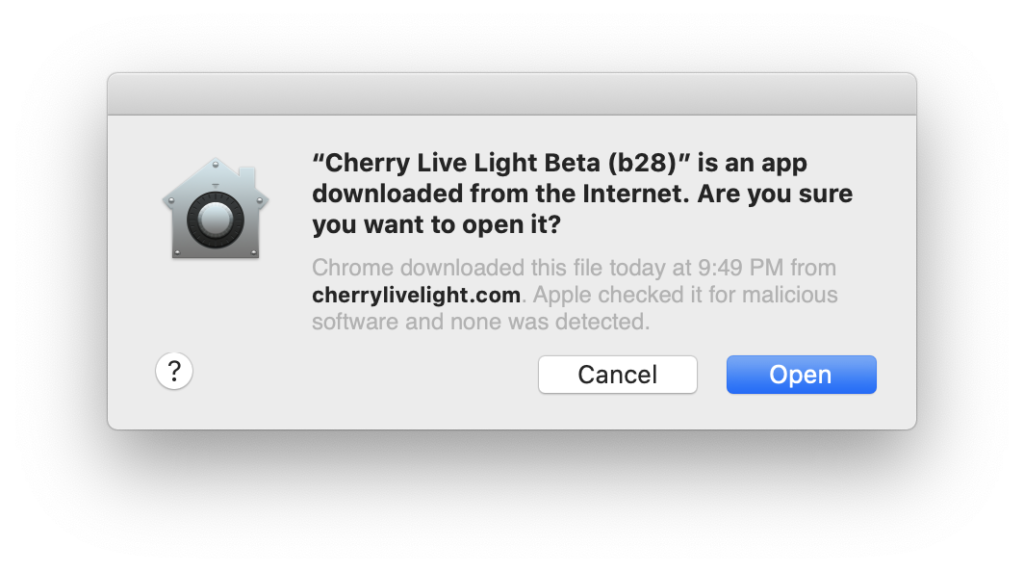 Next, you may be prompted to allow network connections. Cherry Live Light requires network access to control your Hue lights, so click Allow if this prompt appears.
The app will now search for a Hue Bridge. If it finds one, it will ask you to press the circular button on the bridge. Press the button and hold it for about 1 second before releasing it. You should not have to do this again unless you re-download the app or replace your bridge – next time you launch the app, it should connect automatically.
Cherry should finish connecting to your bridge and you should see something like the image below. If you have allowed network connections, have waited 30 seconds, and still do not see a "Connected" status message, please try restarting the app.
Step 2: Enjoy
Your selected light will turn red within 5 seconds of your camera turning on, and will switch back to its original color (or turn back off) after your camera is no longer in use.
You can control the brightness of the red light using the brightness slider in Cherry.
Let us know what you think of the app! hello@cherrylivelight.com